One of the biggest sport tournaments in the world for 2021 is coming back. Today, Valve announced that The International, the annual Dota 2 championship, will return after a one-year hiatus due to the epidemic.
Introducing Supporters Clubs, a new way to support pro teams. The International returns this August. https://t.co/rfetcx1AGm pic.twitter.com/EZ8mSeIZP9

— DOTA 2 (@DOTA2) May 11, 2021
About the Dota 2
Dota 2 is the sequel to "Defense of the Ancients" (Dota), developed and released by Valve Corporation, which was a community-produced mod for Blizzard Entertainment's Warcraft III: Reign of Chaos: its expansion pack, The Frozen Throne.
In Dota 2, two teams of five players are matched to each other on a map with two different bases to capture or defend. Before each game each player is given the opportunity to choose a powerful character from a large roster of 115 different "heroes", all with different abilities, strengths and weaknesses.
During the game, players collect experience points to elevate their characters by performing various actions, like killing another hero or hitting defensive towers to advance to an enemy base. Players can collect and earn gold according to their performance. This is a very important part of the game because earning gold allows you to buy into your character things that can greatly improve the effectiveness of your characters. The first team to destroy the rival team base will be declared the winner.
Game tournaments Dota 2 History
The prize money in Dota 2 has grown tremendously from year to year and even today, the esports game boasts the most prize money with over $177 million in total.
The most notable tournament is the International or "TI" for short, a tournament that is grown by the community and breaks the record each year for the sporting event with the largest amount of money in prizes. Last year, the tournament won eight annual editions and had a prize pool of $25 million.
The winner of the International 2018 in which the OG team earned $11 million, followed by PSG.LGD was the runner-up. Dota 2 tournaments have had an exciting past and it will certainly provide more excitement in the future. To update yourself on all the live and upcoming sports, stay updated with Sports Guide.
When does the Dota 2 tournament start?
This year's trip will be in Stockholm, the group stage of which will begin on August 5. 
What is the pool price of the Dota 2 tournament?
The international is known not only for its intense global competition but also for being incredibly profitable: this year's tournament will have a $ 40 million prize pool.
"We are launching a detailed description of the alternative options."
Although we know that the tournament will take place, it is still unclear whether fans will be present. Valve wrote in a blog post, "While we continue to plan events around the landscape presented by the ongoing global epidemic, our focus remains on finding ways to make a high-quality tournament possible." "This means that we are awaiting the release of additional details on participation options as we collect more information about the summer events. We look forward to being able to share more with the community during the month of June. Let's hope."
As part of the announcement, Valve also introduced a new Dota 2 feature, called Pro Club. Players can purchase in-game items, such as badges and loading screens, with 50% of sales going directly to their favorite e-sports team. The facility will support 17 teams starting today, with more expected to be added over time. "Once more material from other teams is accumulated and approved, they will be added to this list regularly," said Valve.
In 2020, the epidemic forced most of the world's competition to move to online competition. However, this year, some face-to-face events are slowly returning. Riot is currently running the League of Legends and Valiant tournaments in Iceland, while the Overwatch League plans to host several live games in China.
How to Play Dota 2 Game?
The main objective of Dota 2 is to destroy the ancient building of the enemy, which is the largest building within your team base, and by doing so you will win the game. Two different teams must choose a hero to play for throughout the game. It is important that players choose a character you want to stick to, because once you have chosen your hero there is no going back to the next game.
The map shows 3 different routes (left, middle and right) leading from the base of one group to another. The players then decide with their teammates which of their tracks to focus on at the beginning of the game. On these streets players will encounter defense towers and non-player figures (crawling) that need to be killed to collect experience points and gold.
By killing these creeps and destroying the defense towers, you will help your team get closer to the enemy base. When the player focuses on one track, as well as the enemy team, this is where the player's action against the player begins.
All the heroes are very weak at the beginning of each game, so gaining experience and gold is important. Experience points are used for your character level and while leveling you can gain new abilities or upgrade the ones you already have. Along with gold, you can buy items that can give you more damage power, faster running speed or similar things and more expensive items can also give you additional abilities that allow you to move the battlefield on your side. Can help convert.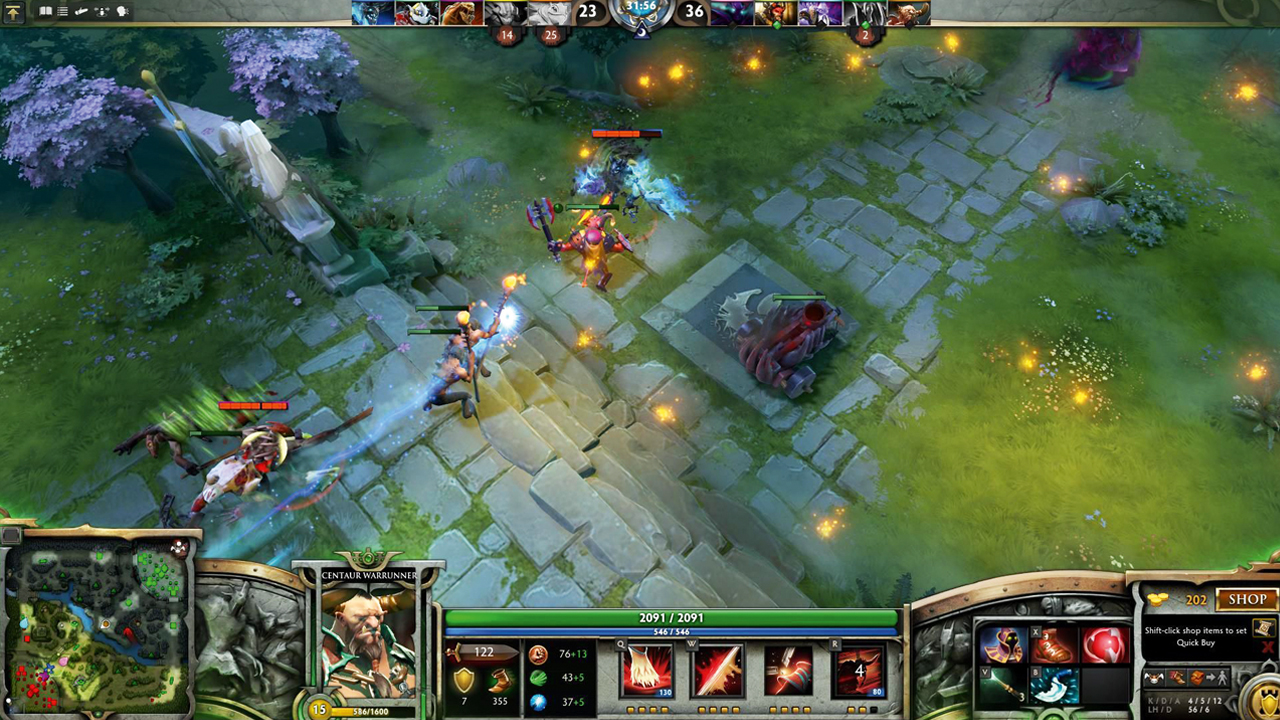 However, to collect gold from creeps, you have to be the player who provides the killing blow. If you do not receive the killing blow, no gold will be awarded. You can also ensure that you can deprive your enemies of the blows that hit your crawl by making sure you kill them yourself before the enemy hero gives a killing blow. This is a wonderful way to deny your enemy gold, but it is also an experience that only 70% of the regular crawling experience will be rewarded to your enemies, and the remaining 30% will be rewarded to your team.
So, early in the game, focusing on achieving the final hit by crawling and preventing your enemies from gold and farming experience is a great way to gain a huge advantage in the game. This is because the heroes were weak in the early game, and if one of the teams manages to reach a level or two above their opponents, it is much easier to keep hitting them because your willpower is higher than your enemies. Score.
This is often referred to as a "snowball" because you take advantage of being a stronger hero and use that momentum to get stronger. A good way for an enemy team to stop a snowball hero is to make great efforts to make sure the hero is killed. By hitting a hero with a strong grind of gold or a hero hitting sequences, the rewards are higher than usual giving the team a lesser chance to hold and equal the odds.
If you as a player are not lucky enough to end up in an alley where the enemy hero starts to snowball, you may be the one allowing him to do so. This is called "feeding" and it's one of the worst things you can do in a game.
If you notice that you've started "feeding" the enemy hero by allowing you to constantly kill you, you should change your play style or ask your teammates to help you speed up your path and eliminate enemies. should ask for help. 'Kill a trip, or you just have to be careful not to start a fight you don't believe you can win. Sometimes escape can be a better strategy than choosing battles that you are uncomfortable with.
After this initial phase of the game it was time for the "midgame". This is when teams try to advance their path and try to get rid of as many defense towers as possible. It is also quite common for players to start trying to "shake" enemy heroes out of their way and do their best to kill enemy heroes quickly enough to come after them and attack simultaneously at the same time.
This is a great way to get more control over the map and advance on your paths. But be careful, if you leave your way to pick up another, you're leaving your way without proper protection, and the enemy may even use it to shove your way to your base.
As the tracks progress and players' heroes are at a higher level, we enter "late game". This is where good communication and coordination within your team becomes very important. A good strategy here is to try to reach your enemy's base and destroy their "huts". These are the buildings that are in front of the ancient building.
Destroying these will make your reptile stronger and give less experience and gold when killed by an enemy. So by doing this you are not only putting pressure on the lane, but also slowing down your enemies' gold and grinding experience. It's also very important to make coordinated attacks against enemy heroes at this point, as killing the entire team gives you a good time to destroy their base.
How to Watch game tournaments Dota 2 online
As mentioned, Dota 2 has a huge presence in the sports scene, and there are many ways to watch tournaments and games online. What's more, it offers one of the largest prize pools in the selection of sports games.
Valve has an official Twitch channel that you can follow to watch International every year. This is one of the biggest tournaments in the sports scene, and includes not only Dota 2, but other popular games as well. This elite tournament has sometimes been praised for its high production value and insane prize money. The e-sports league also has a Twitch channel that broadcasts a number of European tournaments. You can find the channel here: