If you are like us, your Android device will take you almost wherever you go. And they keep all kinds of personal information which would be embarrassing at least if it fell into the hands of a malicious person. We all deserve to do what we can to make sure our Android device is as secure and private as possible. That is the purpose of this guide.
We believe it's important to quickly protect your Android device. However, closing the device tightly isn't a task for five minutes. So we start with something quick and easy. Also, when possible, I tried to arrange the steps in a logical order.
That way, even if you are currently only spending 5 minutes, there are some simple steps you can take to improve Android privacy and security. Whenever you have time, please return to this post and complete the next steps. The goal is to complete each step, but every step you complete enhances your online security and privacy.
4 Way by which you can secure your phone
1. Set a screen lock
If you haven't done so already, setting a screen lock is the fastest and easiest way to increase the security of your Android device. I haven't seen any recent research on this topic, but it seems that many people still don't even care about locking their Android device at all. If this describes you, understand that anyone with your device has complete access to all the great bank account data, all the photos, the documents and more. Want to take the initiative and set a screen lock?
To set the screen lock, follow these steps:
Open Settings on your device.
Click Privacy.
Tap the lock screen.
Tap the screen lock type.
Select one of the screen lock types provided by your device. Android conveniently ranks each option according to its level of security.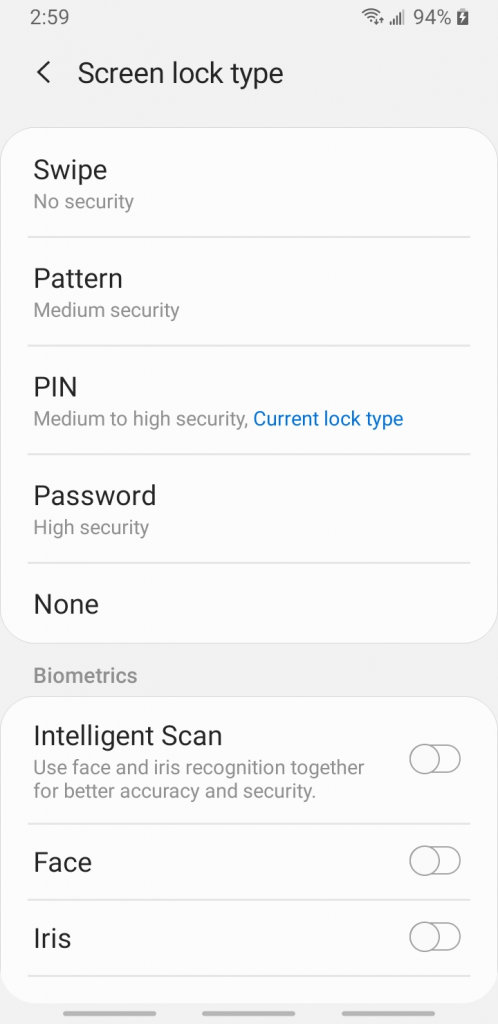 Using one of the biometrics options is a lot more fun, but we recommend using the old PIN or password option. why? Whatever option you use to lock your device, the data for that option will eventually be stored somewhere. Also, if the data is stored somewhere, it can get stolen. In the worst case, in the event that your PIN or password is stolen, you can easily change them. What if my fingerprint or eye print was stolen?
Within a few seconds, your Android device is more secure. Be careful not to forget the PIN or password.
2. Use those Privacy settings
There are many ways to improve your privacy on your Android device. However, finding it was usually a problem, as the options were scattered throughout the system. On Android 10, Google has partially addressed this issue by putting together some of the key privacy settings. Not surprisingly, you can access it from the privacy section of your settings.
Unfortunately, this is not yet an all-in-one control center for privacy-related settings. For example, Google's autofill service doesn't allow you to turn autofill on or off. It just displays the auto-filled data that Google has stored in your account. You need to move to another location to control autofill. To complicate matters, not all settings are available on all devices, and Android versions prior to 10 do not include this section at all.
With all this in mind, here's how to review the privacy settings available on your Samsung S9 + and how to change them to maximize your privacy. From the starting point of each setting here, you can go anywhere, but this also applies to privacy settings on modern Android devices.
I'll come back here frequently in the next few sections, so save the following steps to return to your privacy settings.
Open the settings.
Click Privacy.
You do it during your sleep before we complete.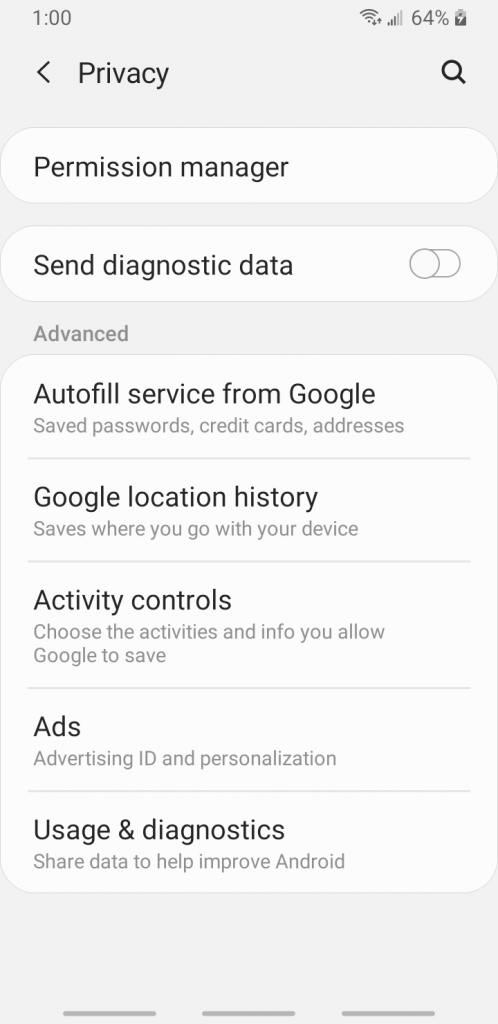 Permission manager
Android applications often need to access certain aspects of a device or operating system. For example, the voice recorder needs access to the device's microphone. This seems logical.
But things can quickly get murky. For example, did you know that many third-party flashlight apps require access to your location, contacts, etc.? Why, to be exact, does the flashlight app need access to any of these? Answer: Not so, but it pays to sell location data to advertisers. (This is explained in detail below).
Even in indisputable situations, you may need the ability to revoke certain permissions. Suppose you are using Skype. However, it is just a text message. Does Skype really need access to my microphone in this situation?
Then you have automatic permissions. Google has specified that some permissions are so important that they are automatically granted to all apps. In particular, all applications are granted internet access automatically. Once you verify your permission settings, you don't even have the option to know which apps have access to the internet, and you can't deny them.
Clicking on an option here will show you which apps are authorized to use that particular option and which are not. You can change the permissions for this particular option by clicking on the application name.
It may be helpful to check the permissions that the app has on the device. For example, if you click on the calendar, you'll see that there are three apps that have permission to view calendar data. The Android Auto, Calendar, and Email apps now have permission to do that. The calendar app makes sense to me. But why do I need permission to view my calendar data when I'm not using the default email app? Similarly, Android Auto is a car navigation app. I don't understand why she needs access to my calendar data.
With this background in mind, here are the steps to control your app's permissions:
Go to Privacy Settings and tap the Permission Manager. You should now see each option along with the number of apps that you have requested access to, as well as the number of apps that you are allowed to access. In this example, 3 out of 11 apps have permission to view my calendar data.

Click on the calendar to see which apps have access to this data and what cannot.
Tap on Mail (an app you don't want to access this data, you can set permissions.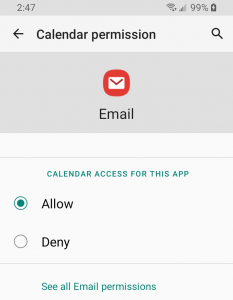 Here you can set access to your email app's calendar data. Depending on what you do, Android may warn you about the negative effects of upcoming changes. You need to decide whether to follow this warning.
It's a good idea to check all options at least once to see if there are any apps you don't want to give permission to. You may be surprised at what you see.
Note: As you can see in the previous image, you may see a link that shows the status of all permissions requested by the current app. This is especially useful because it provides a quick way to check permissions for a new app after you add it.
ALSO READ:  Vivo Y31s pricing and specification leaked online, Snapdragon 4 Series 5G SoC chipped
3. Turn on 2-step verification
No matter what you do with your smartphone, your Google account is at the heart of it all. As the name suggests, the two-step authentication process adds a layer of protection that prevents anyone from accessing your account if someone steals your password. The mechanism is as follows. After you are prompted for your Google password, the code will be sent to your virtual phone via text message or call. You must enter the code to grant access to your account.
This does not necessarily protect your smartphone from theft, but it does protect the contents of your smartphone. For example, if someone tries to log into your Google account remotely from another device, you will see a two-step message on your smartphone. You can then take appropriate action to change the password.
4. Install Find My Device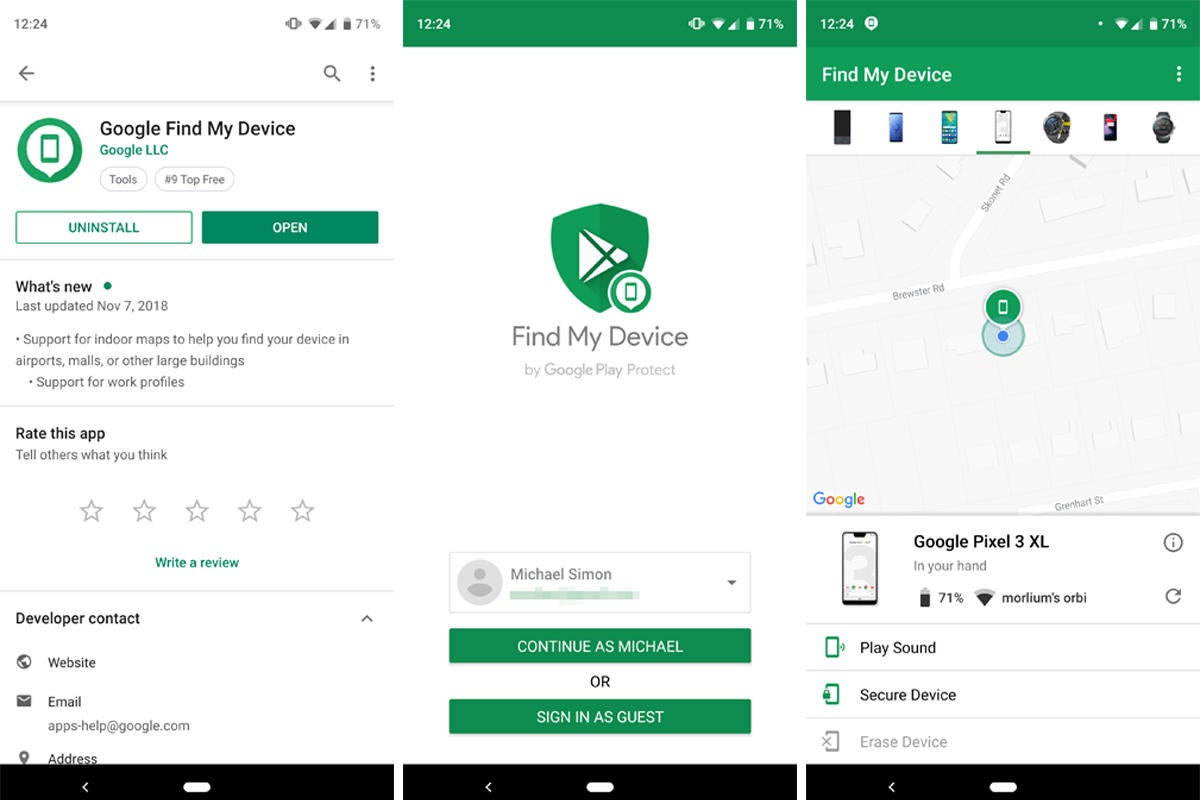 Google provides a handy tool for tracking lost or stolen phones directly in the Play Store. This is called Find My Device and you can track, lock, and erase your phone wherever you are with just one click. After downloading, you can log in with your Google account to allow access to the device's website. After that, you'll be able to log in to Google's Find My Device website and find your phone the moment you lose it. You can also lock your device remotely, display a message or phone number to anyone who finds your device or wipe out all content on your phone altogether.
FAQ
Q) Is it possible to secure your phone 100%?
A) No, We can just add a security layer.
Q) Why phone security is important?
A) 90% of people have a phone now in their hand, they keep all data on the phone. that's why it is important