Garena announced that she will be celebrating Holi in Free Fire with in-game events. The event tells the story of a demon who stole all the colors of the game. Players are summoned by the game's characters Kelly, Hayato, and Misha. They are tasked with tracking down the demon and restoring all the lost colors.
The in-game event is divided into several stages. Each subsequent stage opens after the fulfillment of the requirement.
Garena Free Fire Holi Event: Stage 1
The first phase of the Garena Free Fire Holi event is called "Battle for Colors," which will start on March 15th and will run until March 29th. The event invites players to "search for Devil's hideout". Players will need to choose from a variety of colorful exploration paths to find and attack the demon. The event will also track the progress of players across India. Once all players reach a certain milestone, Satan will be defeated. As a bonus, players will receive a Punkster Runner set, a special room card, a character level 8 card, and a Wake Splash.
According to the game's plot, once the demon is defeated, the colors will spread across different locations on the map. Players are tasked with collecting and exchanging these colors for additional rewards.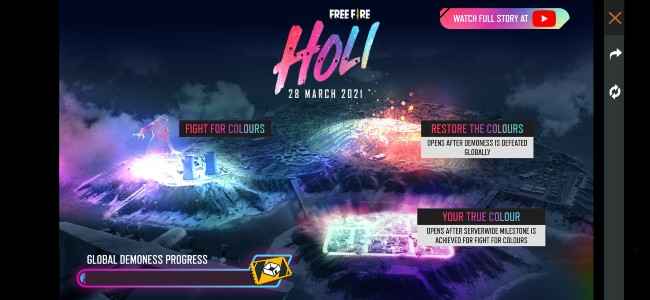 Garena Free Fire Holi Event: Stage 2
To begin Phase 2, players must pass the Character Test. This test will include a series of questions about their playing style, finding friends, and more to reveal their "true color". This color will then represent the player in the last color group.
Then players will need to collect colored paint from the post-match drops. Any duplicate color can be exchanged with friends. Those who collect all 10 flowers will receive wonderful rewards. This includes a one-finger push expression and the Cyber ​​Bunnies skateboard.
It is reported that the "Grand Holi" celebration at the Free Fire will take place on March 28th. This includes a range of translated content such as web series and songs and music videos. The web series will be in three parts. He will tell how people can "meet by chance using Free Fire, make friends in the game, play together in duets and reveal they're true colors." The first episode of the series will be released on March 16.
The new song and video will be released on March 28 and will feature "some very familiar characters." Details of the same are still unknown, and players will have to wait and see what's in the store.